A group of angry protesters have gathered outside the national collation centre in Nigeria's capital, Abuja.
They are carrying placards denouncing the Independent National Electoral Commission (Inec), alleging votes have been stolen.
"Everything happening there is all lies, all lies, lies… they are cooking up results," one man told the BBC as he pointed to the Inec collation centre.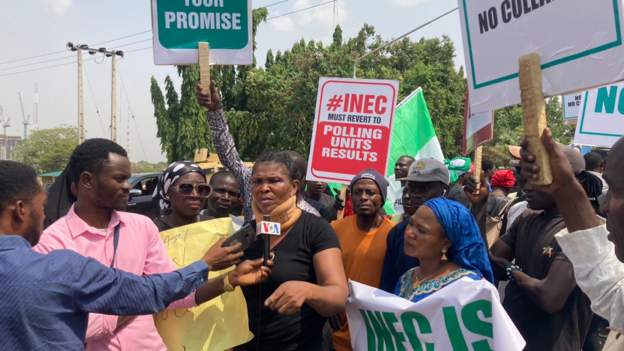 Tension is growing in the country, three days after Nigerians voted in an election marred in parts by violent disruptions and ballot box snatching.
Opposition parties have called for a fresh election, alleging that Inec has bungled the poll – an allegation the electoral body denies.
The announcement of official results is due to begin in the next half hour.
Joshua Ajayi