The dream of every newlywed couple is to have a luxurious honeymoon and ignite the spark in their love lives.
We present to you 15 romantic honeymoon destinations in Nigeria:
1. La Campagne Tropicana Beach Resort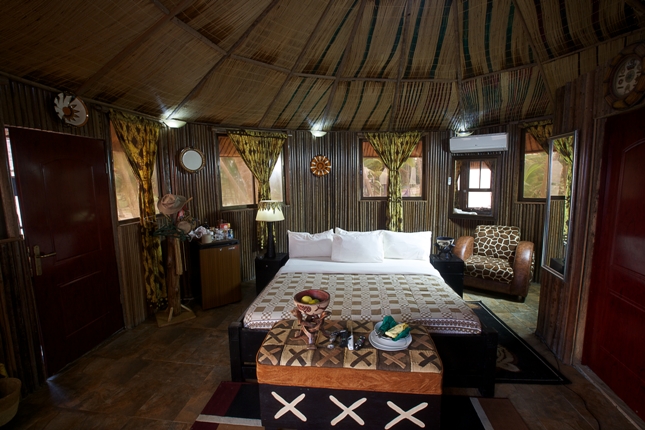 Located between green tropical forest, beside freshwater lagoon and amazing sandy beach along the Atlantic Ocean, the La Champagne Tropicana Beach Resort is an exotic spot for a romantic honeymoon in Lagos. The spa is superb, it's a place where you can just relax with your spouse and sop up the beauty of the scenery. You can spend the day hiking, fishing; listening to sound of the birds, engage in water sports or simply take casual walk along the beach. For a quiet and romantic retreat with spouse, visit La Champagne Tropicana Beach Resort
2. Le Meridien Ibom Golf Resort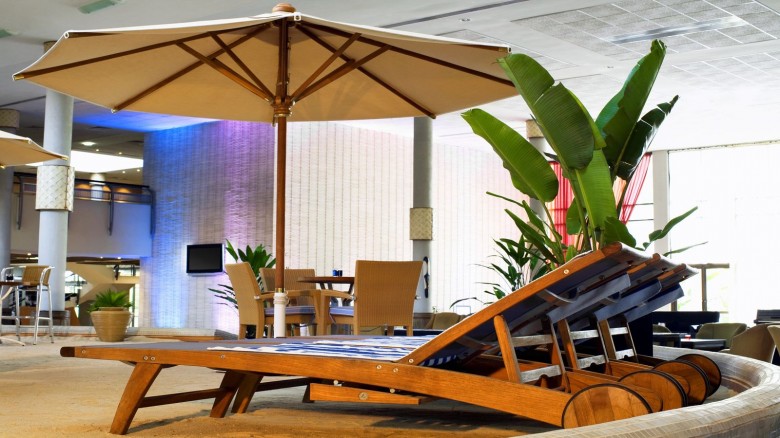 Golf playing newlyweds will have most romantic experience at Le Meridien Ibom Golf Resort in Akwa Ibom State. Located in the midst of a flourishing palm forest vegetation, and full of romantic discoveries and adventure, it is a quiet get away for lovebirds on their honeymoon. The chefs serve some of the most delicious meals you can taste in the whole country. Visit: Le Meridien Ibom Golf Resort
3. Obudu Mountain Resort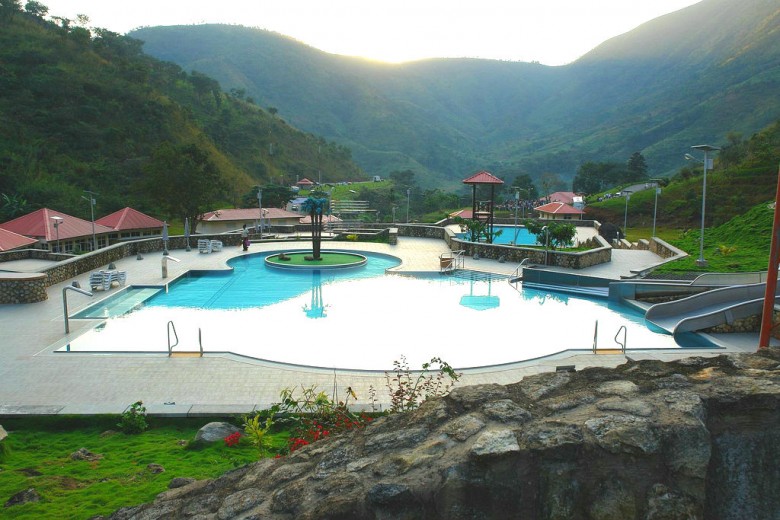 Obudu Mountain Resort, also known as Obudu Cattle Ranch is a perfect paradise for a honeymoon. Newlyweds can engage in outdoor activities like hiking, golfing, horseback riding and bird watching. They will also enjoy the beautiful scenery surrounding the resort as they wake up from the traditional African styled huts or chalets on stilts which serves as the accommodation; during the cool months, warm nights by fire side is so romantic. The cuisine is equally great.
4. Kamp Ikare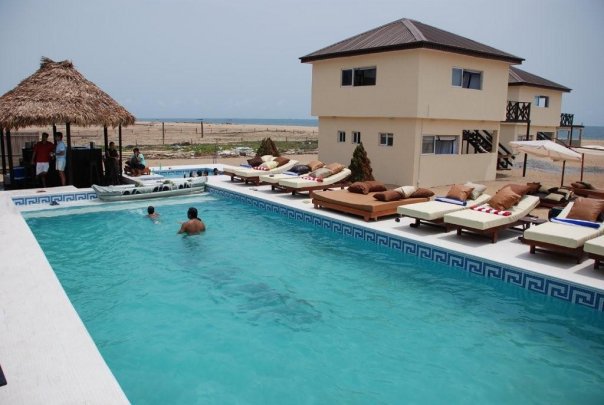 Kamp Ikare, is quite a natural wonder, situated in an charming part of well-preserved Nigeria coastline, an attractive panorama of white sand and glittering sea, it is such a wonderland for your honeymoon. The resort has such a natural splendour that the memory of its beautiful landscape is etched in the memory of visitors long after the visit. This is one of the best places to give your spouse a special honeymoon.
5. Zenababs Half Moon Resort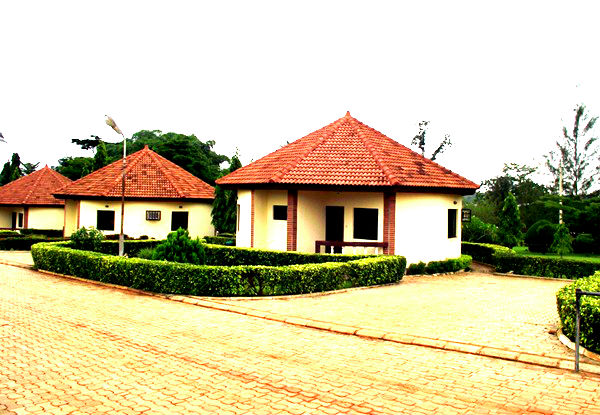 Zenababs Half Moon Resort located in Ijesha, Osun State is an exotic resort for a luxurious honeymoon. Nestled in beautiful natural surroundings, its tranquil and fully equipped villas make the resort the best place for a romantic honeymoon. Wedding stress starts to melt away as you step into Zenababs. After a beautiful night, you can wake up to magnificent views of the beautiful surrounding while enjoying breakfast in bed. Visit: Zenababs Half Moon Resort
6. Le Meridien Ogeyi Place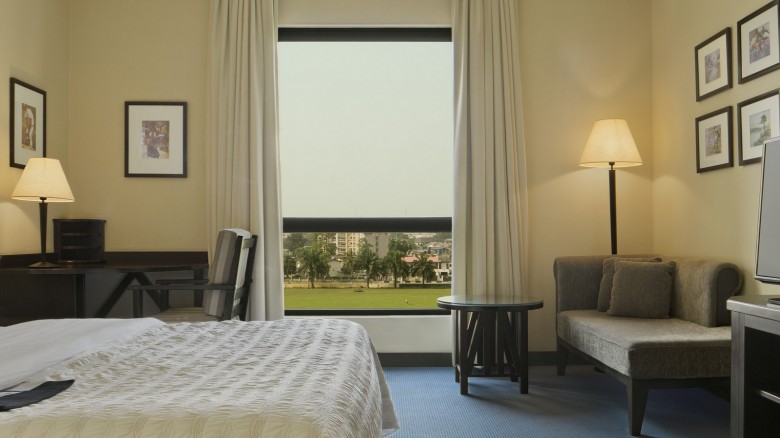 Blending luxury with beauty, Le Meridien Ogeyi Place offers honeymooners ritzy yet romantic vibe. An outdoor pool, spa services, tastefully furnished rooms with a touch of African style and fine dining are available at this retreat. The warm hospitality of the staff contributes to the luxury. Located in Port Harcourt, Le Meridien Ogeyi Place is a very serene spot for new couples that want a quiet honeymoon in a serene environment. Visit: Le Meridien Ogeyi Place
7. The Whispering Palms Resort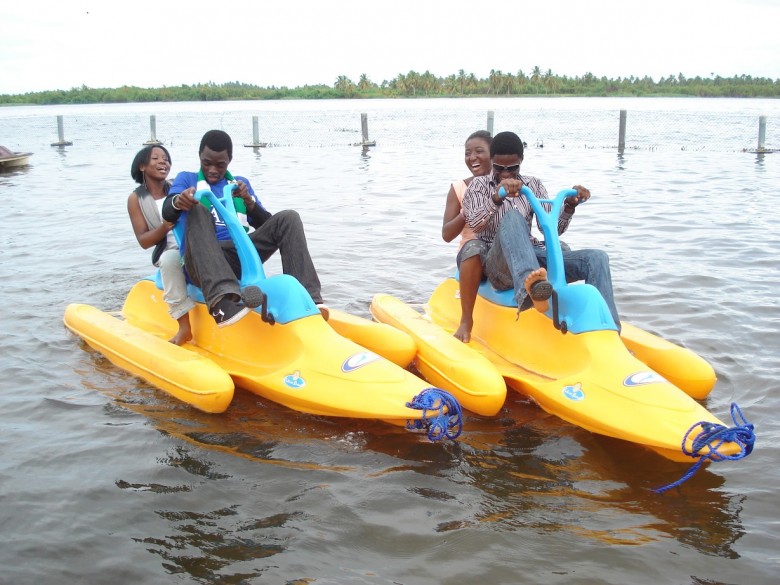 Photo Source: Whispering Palms
Whispering Palms resort is renowned for its retreat and beauty. Located in Badagry, the resort is the finest hideaway for honeymooners. Just imagine waking up in the arms of your loved one with cool breeze from the beach caressing your skin and the birds chirping in the background. The scenery of the palms that lined the road, the beauty of the beach front, the sight of the animals in the mini zoo and the artworks all contribute to give you and your spouse a treat of a lifetime.
8. La Manga Luxury Villas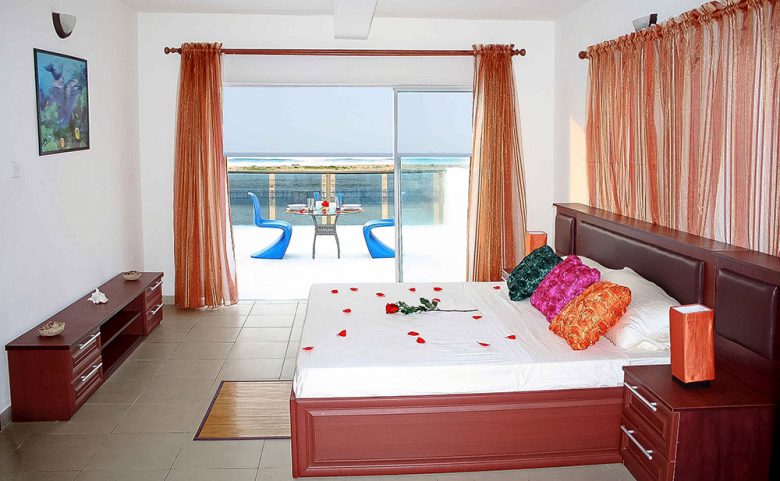 Spending your honeymoon in La Manga Beach Resort is like returning to the garden Eden to hobnob with your new spouse. A picnic under the palm trees will be exciting and refreshing to new couples just as a stroll along the beach while they savour the beautiful scenery. The resort offers honeymooners the best of luxury and romance they can ever imagine. Visit: La Manga Beach Resort
9. MicCom Golf Resort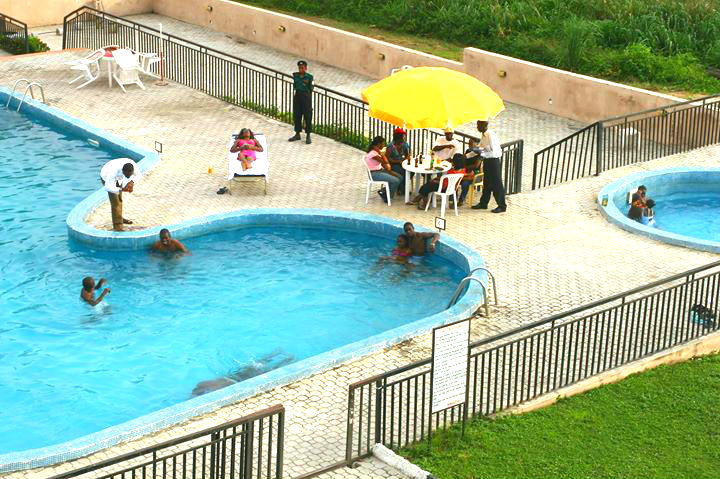 For a romantic get away and to be alone with your new spouse, visit MicCom Golf Resort in Osun State. Set in a natural setting, surrounded with lush green vegetation. If you are golf enthusiast you'll have a most rewarding golfing experience with your spouse and even non-golf playing couple will have a peaceful and a fun-filled honeymoon in this midst of this natural wonder. Visit: MicCom Golf Resort
10. Epe Resort & Spa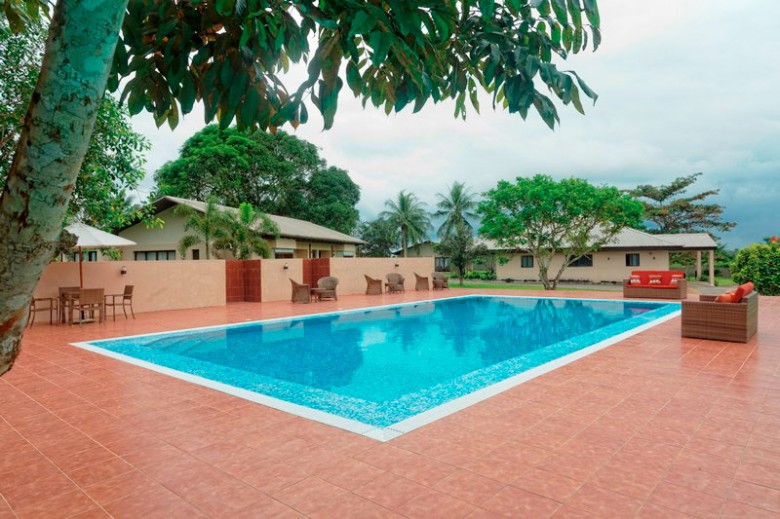 Everyone loves relaxing in a spa when they've got the time. Besides, no one has got superfluous time to relax and explore than honeymooners. Epe Resort and Spa is known for the ultimate pleasure and real romantic experience it offers newlyweds. The resort is a relaxing escape with exciting adventures and facilities. Spice things up by indulging in their spa treatments, relaxing by the pool with a glass of wine and having a romantic dinner with your spouse at the in-house restaurant. Visit: Epe Resort and Spa
11. Rojenny Tourist Village
Rojenny Village is a secluded and romantic retreat for honeymooners. The destination offers a lot of exciting attractions, which include sporting and relaxation facilities, joy rides and amusement park. Enjoy a walk round the facilities with your spouse, especially in the evening. Rojenny Village is located on the suburbs of Onitsha town, Anambra State. Visit: Rojenny Tourist Village
12. Eko Tourist Resort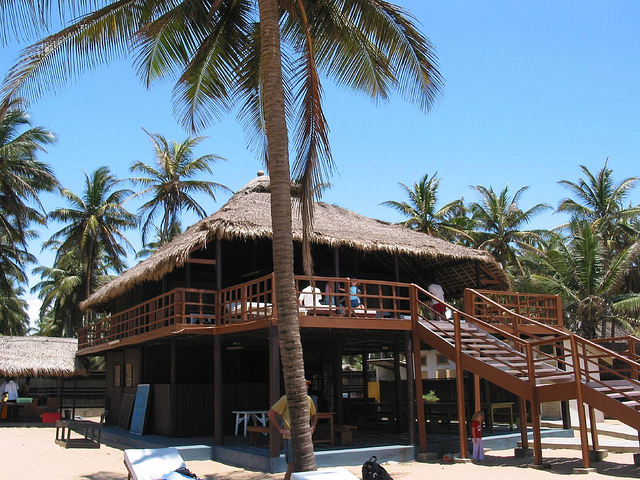 Envisage spending your day with your new bride in your arms watching swaying palm trees while the breeze stroke your skin and strolling on white sand beaches. Located on Lagos- Epe Expressway, the Eko Tourist Resort is a picture-perfect honeymoon retreat. The resort offers activities you can enjoy with your new spouse. You won't believe you are in Lagos when you are at this resort, you'll feel like you are on a private island, somewhere in Miami. (*winks)
13. Oguta Lake Holiday Complex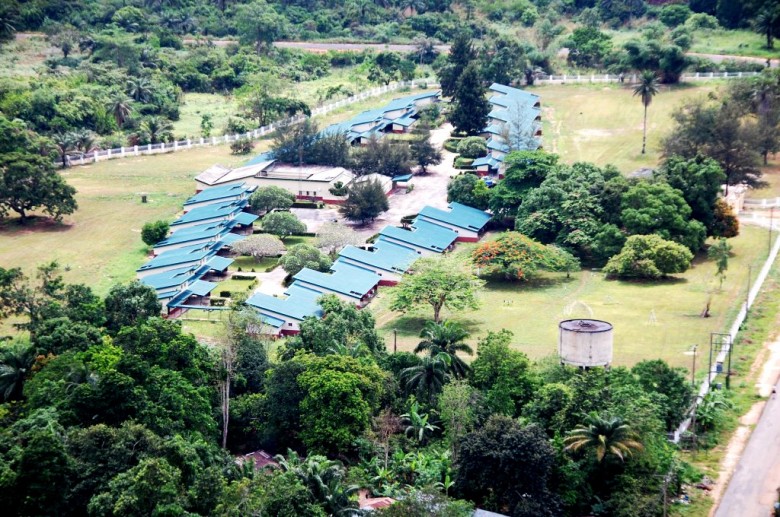 Honeymoon vacation is about getting away from it all and one of the best places to escape the wedding stress is Oguta lake Holiday Complex. Located in Imo State, this retreat offers a lot of recreational activities at the lake Including swimming, boat cruising and the beautiful scenery of the confluence of Urashi Rive and Oguta Lake.
14. Abraka River Resort, Abraka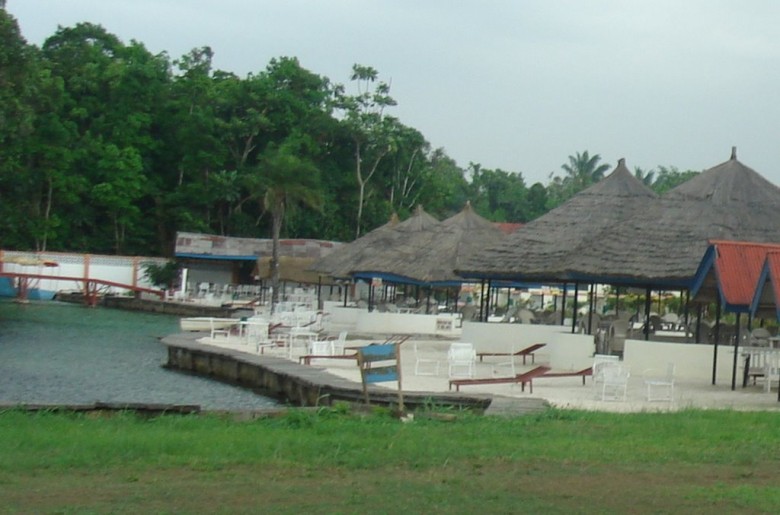 Abraka River Layout is a perfect location, a romantic getaway for newlyweds who want to stay away from the city and closer to nature. Swimming, boat riding, fishing are a few of the activities couples can indulge in. Taking a walk on the sandy beach and watching Ethiope River flowing rhythmically and slowly, is such a romantic and soul refreshing experience.
15. Ikogosi Warm Spring Resort
 
Adventure lovers will feel at home at Ikogosi Warm Spring Resort. Located in Ikogosi in Ekiti State, the resort offers luxury accommodation and lifetime experiences that will make your honeymoon memorable. Explore amazing landscape views of the resort, natural wonders of rock formation and the meeting point of warm and cold springs. Visit: Ikogosi Warm Spring Resort
Honeymoon doesn't get any better than this in Nigeria! If you are looking for a serene and romantic place to go for your honeymoon, you should consider one of these destinations.